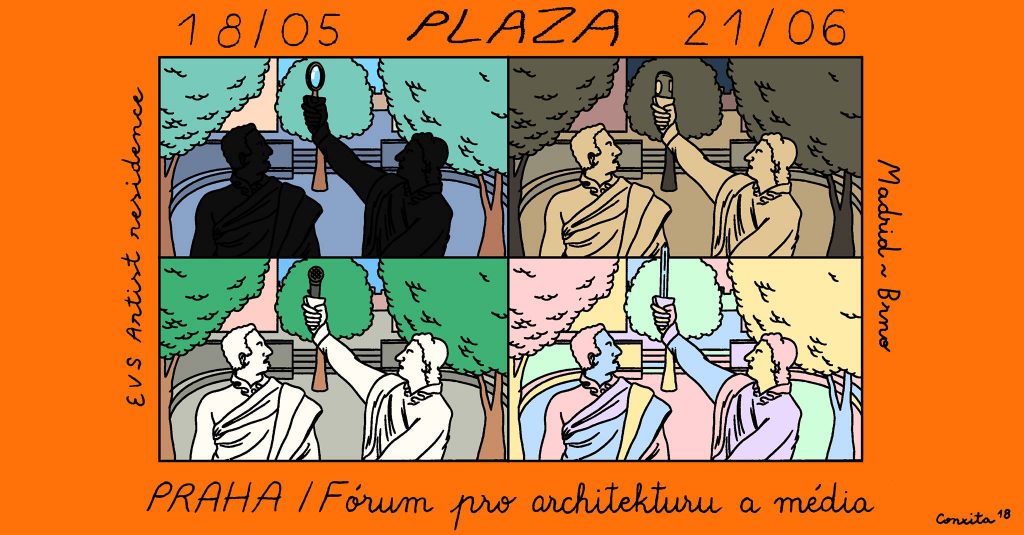 PLAZA tvoří shluk koncertů, djs aktů, komunitních marketů či performancí – akcí spjatých s novými médii, které se v průběhu května a června uskuteční na nádvoří Pražákova paláce. Cílem projektu naší rezidentky Isabely Rojo je vybudovat pomyslný most mezi Brnem a Madridem, díky kterému je možné nahlédnout do lokálních uměleckých scén.
Plaza (ESP): Place where diverse articles are sold [1], the common treatment with the neighbours [2] and the fairs, the market [3] and the public festivities [4] are celebrated. 
[1]. Sangría, Gazpacho (cold tomato soup), drink's bar at the yard + menu at Praha.
[2]. Neighbours from Brno and other visitors.
[3]. Květnová Květena v PRAHA
[4]. Djs at the yard + projections + performance (OPEN- CALL Plaza_ visual media // performance **)
The yard of PRAHA / Fórum pro architekturu a média will give you the chance to lose yourself in a safe and committed environment. Vibrant space in which different artists based in Brno and Madrid contribute, guiding us through the shining defrosting shakes of electronic and experimental music, video and performance. We will transform our space into real Plaza in both meanings: architecturally and in the symbolic way, which is specific for Spanish-speaking countries.
The aim of PLAZA_ is to build a bridge between the cities of Madrid and Brno and to reveal and promote their artistic local scene in committed and safe environment.
Artists confirmed:
>>> 18 May_ 
Miltz https://soundcloud.com/janemiltz/tracks
https://www.facebook.com/miltz/
Hnát the Dj https://soundcloud.com/hntjrslv
Nina Kish
+ Květena 
>>> 21 June_
17h // BOREHOLE // performance by Cristina Manuela
19h // Matte/Glossy // electric pop by Violeta Gill (https://soundcloud.com/matte-glossy)
20h // Nikol Strobach Dj set
+ projection of photographies by young arists from Brno and Madrid

Video artists and performances will be published periodically in this event. 
**OPEN CALL >>> https://www.facebook.com/events/604469503239342/
PLAZA_ is the final EVS project by the artist in residence Izabela Rojo, Madrid (ESP) at PRAHA / Forum for architecture and media. Supported by Erasmus+.
Illustrator of poster: Spanish artist ♥ Conxita Herrero ♥
FB: https://www.facebook.com/conxitaherreroqu/
INSTAGRAM: https://www.instagram.com/qqrutxu/
<:^)